Staff Bursary Program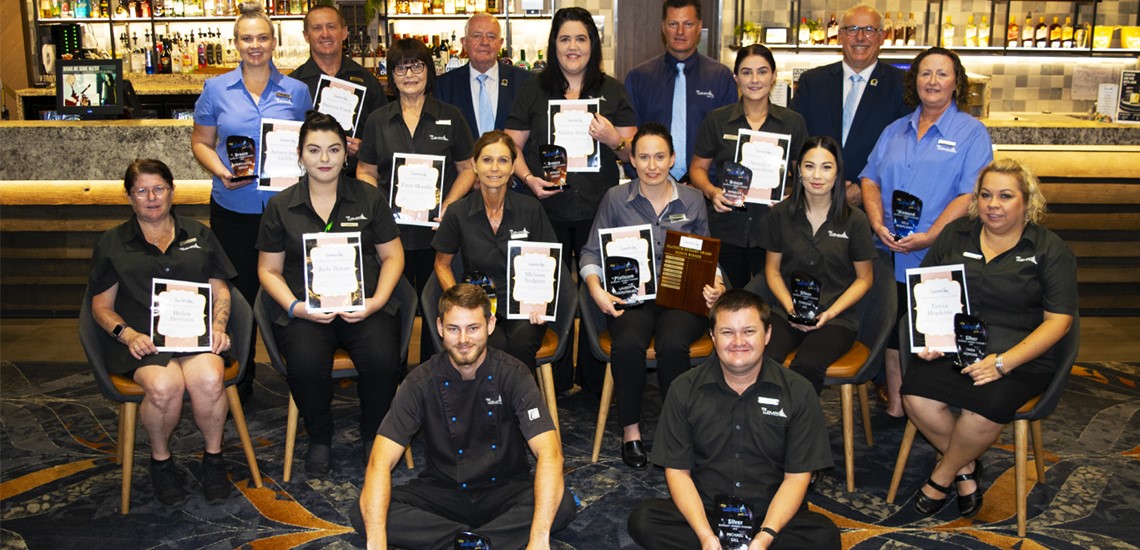 The Waves Sports Club Staff Bursary Program
Each year The Waves Sports Club acknowledges and rewards exemplary staff through its annual Staff Bursary Program.
At the end of each month and throughout the year, each manager of The Waves votes in a 3-2-1 system of point allocation for the staff member which they feel have excelled in the areas of customer service, teamwork, attitude and behaviour, and/or excellence in job performance. At the end of each month points are tallied and the top three staff are rewarded with a $150 gift card, $100 gift card, and $50 gift card, respectively. 
At the end of each year total points are then tallied for the Annual Staff Bursary Awards Ceremony Breakfast where the top fifteen point earners for the year are rewarded with:
| | |
| --- | --- |
| First Place Platinum Winner | Las Vegas, United States Study Tour |
| Second Place Gold Winner | Macau, China Study Tour |
| Third Place Diamond Winners (x3) | Sydney (x2) and Brisbane Study Tour |
| Fourth Place Silver Winners (x3) | $900, 800, and $700 |
| Fifth Place Bronze Winners (x3) | $600, $500, and $400 |
| Sixth Place Red Winners (x4) | $350, $300, $250, and $200 |
2020 Waves' Member Voting 
The 2020 Staff Bursary Program has now commenced and this year votes are also open to Waves' members where each month you can vote for the staff member you feel has excelled in the areas of:
Customer Service
Teamwork
Attitude & Behaviour
Excellence in Job Performance
To cast your vote simply print and fill out THIS VOTING FORM and return it to The Waves' feedback and suggestion box located at the reception desk. Alternatively, voting forms are available at each point of sale at The Waves. Member votes will be tallied each month with the three highest voted staff receiving additional bursary points for that month and year.  

Please note that voting forms can be submitted each month from the first day of that month to the second day of the next month. Voting forms must also include the voter's full name and their Waves' membership number to be considered valid. You may vote for more than one staff member in the same month but only one vote for each staff member, per month will be counted with all duplicate or invalid votes excluded.
Community Organisation of the Year, 2019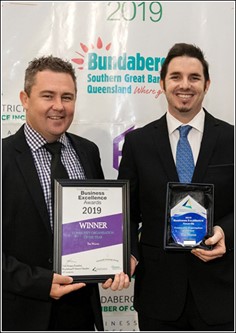 '
During the 2019 Bundaberg Chamber of Commerce Business Excellence Awards, The Waves Sports Club were proud recipients of the Community Organisation of the Year award for the third time.
This award reflects the $1.26M which The Waves donated directly to the local Wide Bay/Burnett region in 2018, and the $7.67M reinvested back into the local economy. 
On behalf of our 52,500 members, The Waves Sports Club's Management Committee, management, and staff accept this prestigious award. We thank you, the member for your continued support of our business so that awards like this are possible.
---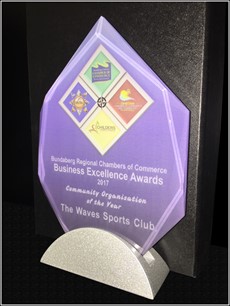 The Waves' 2017 Community Organisation Business of the Year award.
---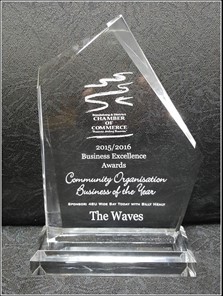 The Waves' 2016 Community Organisation Business of the Year award.