Work at The Waves
Welcome to The Waves' careers page.
The Waves Sports Club is a not-for-profit organisation which currently provides employment to over 100 local people, from management and administration, and front-line to operational staff. The Waves promotes a safe and happy work environment in which all employees are celebrated on their merits and evaluated according to company standards of service and job performance.
The Waves is always looking for vibrant, enthusiastic, and friendly people. If that describes you, please fill out the application form below and submit it to us along with your resume.  
For all general employment and application enquiries please download and fill out the Employment Application Form below and email it Operations Manager, Darren Wakefield at darren.wakefield@thewavesgroup.org
For all advertised employment and current positions available please scroll down to find instructions on how to apply to a specific role. 
---
Current Positions Available:
Casual Chef
Posted Wednesday, February 6, 2019
Please click the Casual Chef PDF attachment below to view job listing. 
Sous Chef (Full Time)
Posted Friday, June 7, 2019
Please click the Sous Chef (Full Time) PDF attachment below to view job listing. 
---
Reservations: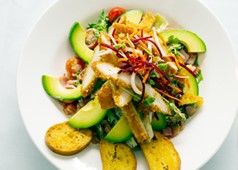 Lunch/Dinner Trading Hours 
Lunch - 12pm - 2pm 
Dinner - 6pm - 8pm
Friday & Saturdays Nights - 6pm - 8.30pm 
A full range of starters, light meals and a la carte meals including pastas, fish, chicken, lamb, pork, as well as specialty dishes. The Waves Rock Salt Bistro also has a delicious range of steaks, including 1824 rump, rib fillet, and eye fillet, with toppers, sides and sauces. 
 _____________________________
What About the Kids?
Worried about the kids? Don't be! With an ultra-modern, award winning playground/ indoor activity room, the kids can play to their heart's content while you relax. The Waves also caters for a full range of children's meals and offers a free paddlepop ice cream and children's activity bag to all children who dine in the bistro.
 _____________________________
Bundaberg Catering
With the best reputation for Bundaberg catering, a full range of catering packages available and a complete selection of food and beverage items, The Waves corporate catering service is head-above-the-rest, with an impressive resume of catering to some of the largest businesses and government organisations including the Mayor's Ball, and countless private weddings, celebrations, school formals, private parties and corporate functions. The Waves' corporate catering service will prepare your guests' quisine, deliver it impecibly to their tables, and maintain the finest service.
For enquiries please phone or email David Frost, Functions & Catering Manager. (07) 41 521 531.