Pokie Game Shows
IMPORTANT NOTICE: Due to COVID-19 precautionary measures and customer limits some our our pokie daily game shows listed below have been temporarily suspended. 
For updates on this please check back here regularly or follow The Waves via one of the social media links below. 
---
Sunday Wheel of Cash - 3:00pm to 5:00pm - TEMPORARILY SUSPENDED
It's time to bring in the BIG WHEEL! One player will spin the big wheel every thirty minutes and win the result of their spin in INSTANT CASH! $50, $150, or $200 is up for grabs each round. Good luck with the Wheel of Cash.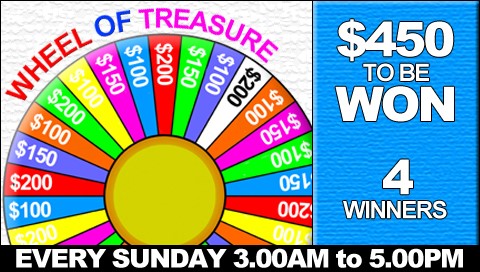 ---
Gift Card Monday – 11.30 to 2:00pm - TEMPORARILY SUSPENDED
Got your eye on something special at K-Mart or Target, or simply want to reduce that Coles grocery bill? Then Gift Card Monday is your game show. Five $50 Coles/Myer Gift Cards will be won by five lucky people, and yes, you can win more than once in the same day!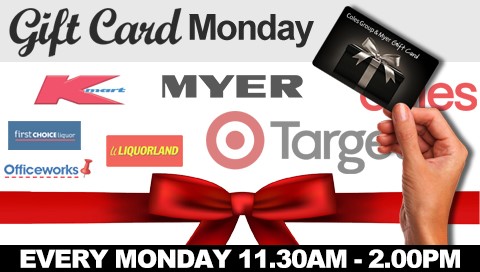 ---
Tuesday Ring Toss – 11:30am to 2:00pm - TEMPORARILY SUSPENDED
It's that good, old-fashioned game we all used to play, only now there's prize money! Five lucky people will be invited up to throw five rings at the peg board. Win multiples of $20, $30, or $50 depending on your skill, with $10 awarded for a missed shot. 
---
Wednesday Speedy Cash – 11:30am to 2:00pm - RESUMES 05/08/2020
It's fast-paced with the most winners of any daily game show - welcome to Wednesday Speedy Cash. 10 draws of $100 to be won. That's $1,000 GUARANTEED!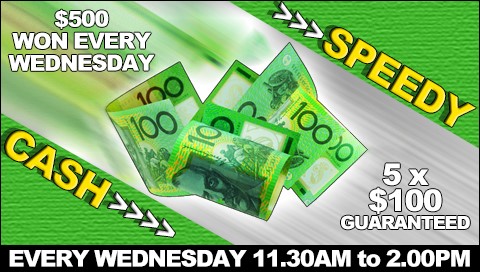 ---
Thursday Speedy Cash – 11:30am to 2:00pm - TEMPORARILY SUSPENDED
It's been so popular on Wednesday's that we've added it to Thursday. Welcome to the ALL NEW Thursday Speedy Cash. 10 draws of $100 to be won. That's another $1,000 GUARANTEED!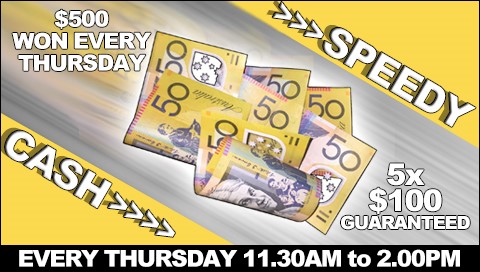 ---
Friday Scatter Cash – 11:30am to 2:00pm - RESUMES 07/08/2020
Welcome to Bundy's best cash prize game show, Scatter Cash, where $900 is guaranteed to be WON every week. Five winners will be selected, one every thirty minutes, and the prizes are instant cash! $150, $100, $200, $150, and $300 prizes are GUARANTEED EVERY FRIDAY. Scatter Cash. Simple. Easy. HUGE WINS!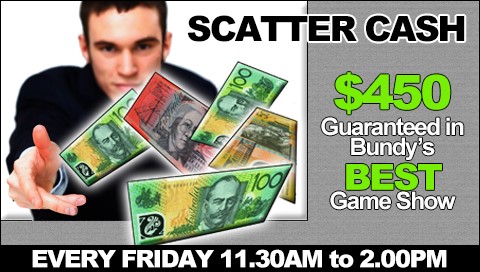 ---
Saturday Beat the Coin -  3.00pm – 5.00pm - TEMPORARILY SUSPENDED
Flip the big coin four times, each time guessing what the result will be. Heads or tails? For each correct guess you make you'll win $50! Can you beat the coin four times in a row and win the perfect score of $200. It's Saturday's all new game show.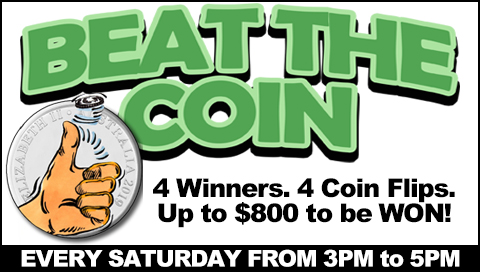 ---
Eligibility:
All gameshows are open to MEMBERS ONLY of The Waves Sports Club with their valid membership card inserted into an active gaming machine.  For every $2 or more win one (1) ticket is earned. 
$1 Social Membership for LIFE!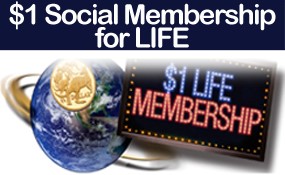 $1 opens up a WORLD of possibilites at The Waves with our one dollar social membership for LIFE offer. Our social members enjoy free use of The Club and its facilities, accrual of loyalty points, membership and birthday draws, discounts on food and beverage and much, much more. Phone or email The Waves' reception for more information on becoming a member, or upgrading to social LIFE from your current membership.
Weekly Membership Draws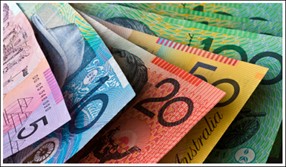 The Waves offers three weekly membership draws where you, the member, can win up to $20,000 cash. Wednesday, Thursday and Friday are the weekly draw days, with Wednesday and Friday draws including 2 x $1,000 guaranteed draws, and Thursday including a 'Closest to the PIN' component. For more information please click here to visit our Weekly Membership Draws page.