Bundaberg Pokies
Welcome to The Waves Sports Club's Opulence Gaming Room, the most abundant and most modern facility for Bundaberg gaming. Here, 221 of the most popular Bundaberg pokies are on offer for your enjoyment, some of which are completely new and completely exclusive to The Waves. 
Mel our Gaming Coordinator, and her team of highly experienced staff strive to ensure your  time is one of complete enjoyment. Free tea, coffee and soft drink is available to pokie players, and daily game shows are available to playing members where cash money and prizes are won in excess of $3,500 each week.
The Opulence Gaming Room boasts the most modern and most abundant pokies, with hyperlinks including:
Lightning Link

Dragon Link

Lock it Link

Sky High Link

Revamped Players Paradise
New Bundaberg gaming machines are also installed regularly, with brand new machines like Monopoly, Iron Man, Locked & Loaded range alongside older and all time favourite machines like Fastlane, Rapid Fire, Jackpot Carnival, Money Train, Jetsetter and Carnival Explosion.
Whilst playing within Opulence don't forget to have your membership card properly inserted into your gaming machine, as this will earn you points each and every moment that you play. Points that are redeemable to cash or purchases throughout The Waves.
The Waves: A Responsible Service Provider of Gambling
The Waves Sports Club has always been committed to the total provision of responsible service of gambling. Are you a gambler who is in control? Does gambling feel like entertainment instead of a job? Are you betting with what you can afford? If you answered no to these questions you may be showing signs of problem gambling.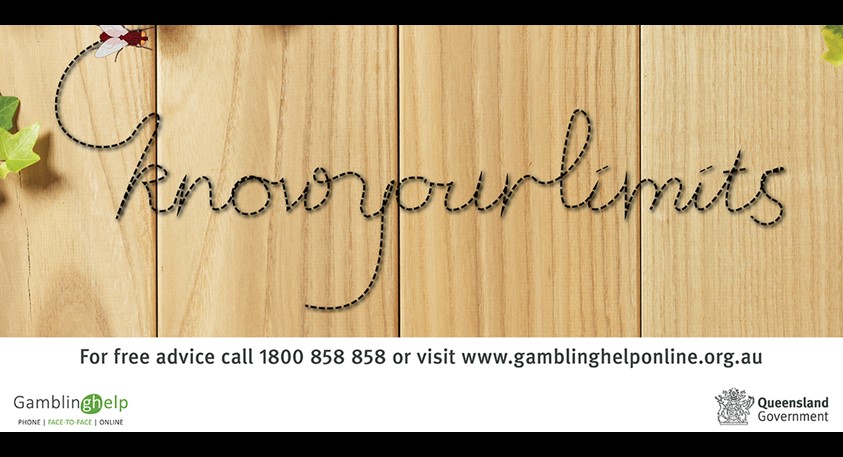 The Waves Sports Club has trained staff to assist those who feel they may be developing an unhealthly relationship with gambling, plus we have a strong relationship with Uniting Care Community who maybe able to assist. Alternately the Queensland Government Office of Liquor and Gaming Regulation have information available.
Please click below for more information.

Seven Daily Game Shows Every Week!
Sunday's Wheel of Cash
3.00pm - 5.00pm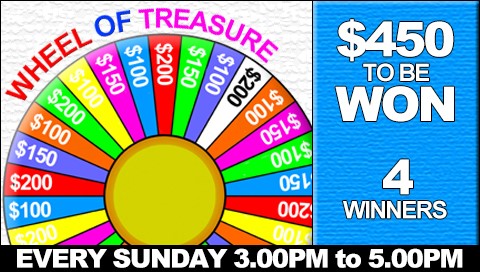 It's time to bring in the BIG WHEEL! One player will spin the big wheel every thirty minutes and win the result of their spin in INSTANT CASH! $50, $150, or $200 is up for grabs each round. Good luck with the Wheel of Cash.
Gift Card Monday
11.30am - 2.00pm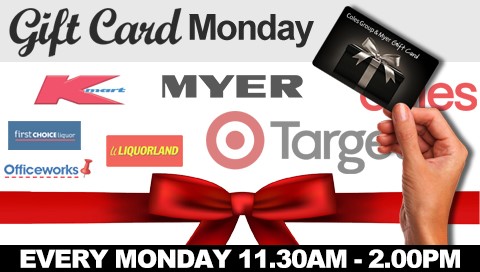 Got your eye on something special at K-Mart or Target, or simply want to reduce that Coles grocery bill? Then Gift Card Monday is your game show. Five $50 Coles/Myer Gift Cards will be won by five lucky people, and yes, you can win more than once in the same day!
Tuesday's Ring Toss
11.30am - 2.00pm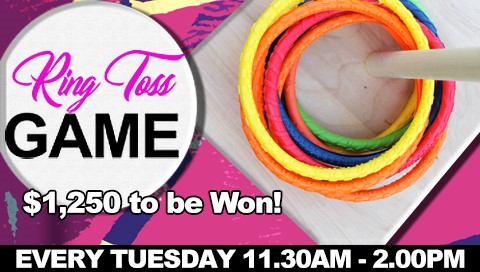 It's that good, old-fashioned game we all used to play, only now there's prize money! Five lucky people will be invited up to throw five rings at the peg board. Win multiples of $20, $30, or $50 depending on your skill, with $10 awarded for a missed shot. 
Wednesday's Speedy Cash
11.30am - 2.00pm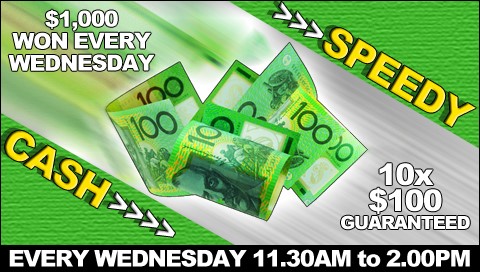 It's fast-paced with the most winners of any daily game show - welcome to Wednesday Speedy Cash. 10 draws of $100 to be won. That's $1,000 GUARANTEED!
Thursday's Speedy Cash
11.30am - 2.00pm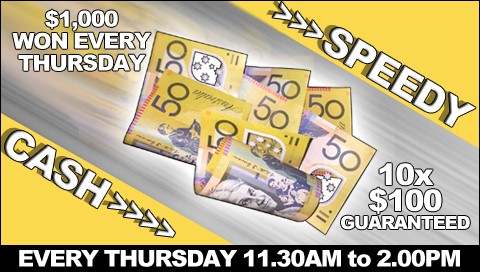 It's been so popular on Wednesday's that we've added it to Thursday. Welcome to the ALL NEW Thursday Speedy Cash. 10 draws of $100 to be won. That's another $1,000 GUARANTEED!
Friday's Scatter Cash
11.30am - 2.00pm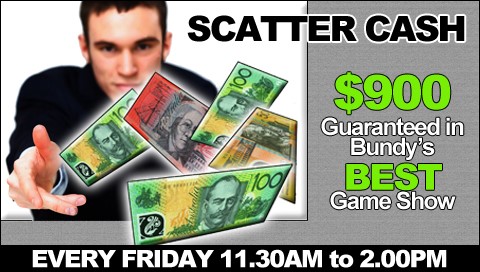 Welcome to Bundy's best cash prize game show - Scatter Cash, where $900 is guaranteed to be WON every week. Five winners will be selected, one every thirty minutes, and the prizes are instant cash! $150, $100, $200, $150, and $300, prizes are GUARANTEED EVERY FRIDAY. Scatter Cash. Simple. Easy. HUGE WINS!
Saturday's Beat the Coin
3.00pm - 5.00pm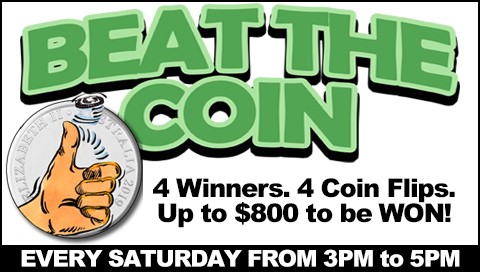 Flip the big coin four times, each time guessing what the result will be. Heads or tails? For each correct guess you make you'll win $50! Can you beat the coin four times in a row and win the perfect score of $200. It's Saturday's all new game show.
Eligibility: 
All game shows are open to MEMBERS ONLY of The Waves Sports Club with their valid membership card inserted into an active gaming machine. For every $2 or more win one (1) ticket is earned.