$30K Appliance Giveaway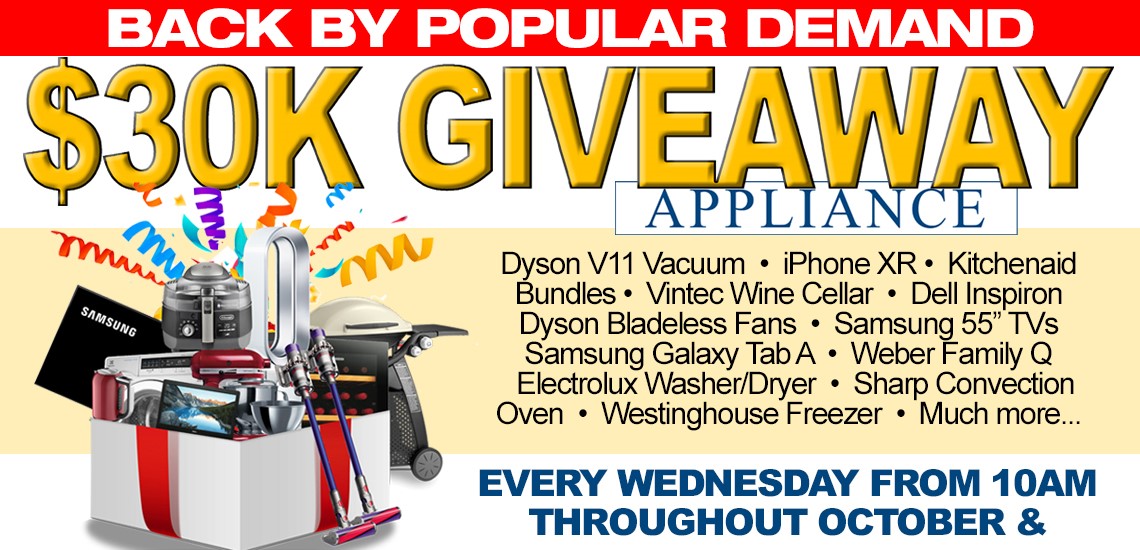 Back by popular demand The Waves is giving away another $30,000 in latest, big brand and must-have appliances and electronics in its $30K Appliance Giveaway (Back by Popular Demand) promotion. 
4 winners will choose their own prize from the massive prize display each week. Winners will be drawn every 30 minutes starting at 12:30pm every Wednesday, starting October 9. 
To enter, simply generate $5 in pokie turnover from 10am each Wednesday of October and November. Entries will remain in play for the duration of the promotion and will not reset or be deleted. 
Prizes will Include:
| | | | | | |
| --- | --- | --- | --- | --- | --- |
| Samsung 55" Smart TV | Dyson Bladeless Fan | Galaxy Tab S4 Tablet | iPhone XR 64Gb | Dell Inspiron Laptop | Kitchenaid Appliance Bundle |
| Kitchenaid Mixer / Pasta Maker | Kitchenaid Processor / Blender | Sharp Convection Inverter Oven | Bosch Dishwasher | Weber Family Q BBQ | 35 Bottle Wine Cellar |
| Westinghouse Upright Freezer | Electrolux Washer/Dryer | Philips Air-fryer/Multicooker | Kincrome Toolbox Trolley & Chest Combo | SMEG Appliance Bundle | much more... |
Draw Dates:
| | |
| --- | --- |
| Wednesday, October 9 | Wednesday, November 6 |
| Wednesday, October 16 | Wednesday, November 13 |
| Wednesday, October 23 | Wednesday, November 20 |
| Wednesday, October 30 | Wednesday, November 27 |
---
$15,000 North Pole Christmas Raffle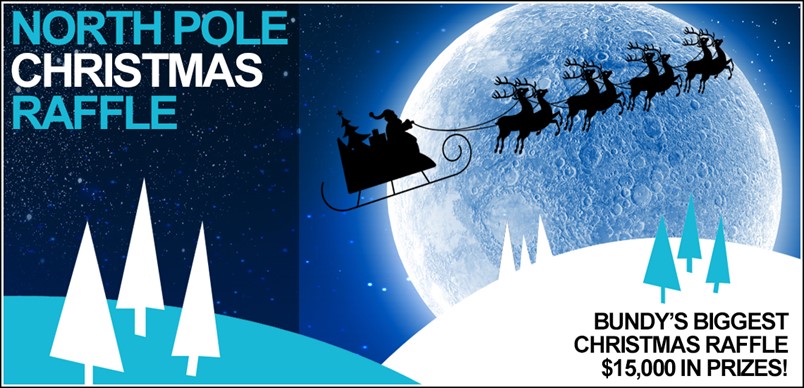 Bundy's Biggest Christmas Raffle is Back!
Our North Pole Christmas Raffle is on again and this year we're giving away $15,000 in the biggest brand, must-have prizes, including toys, electronics, gadgets, gift cards, appliances, and more.
Full details including the prize list are coming soon. Tickets will be on sale from October 14, 2019.
Seven Daily Game Shows Every Week!
Sunday's Wheel of Cash
3.00pm - 5.00pm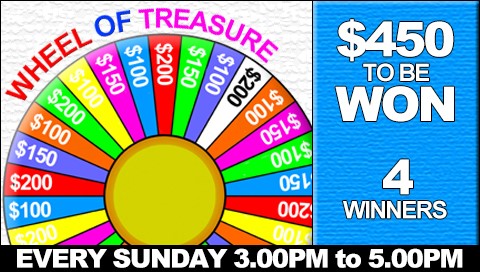 It's time to bring in the BIG WHEEL! One player will spin the big wheel every thirty minutes and win the result of their spin in INSTANT CASH! $50, $150, or $200 is up for grabs each round. Good luck with the Wheel of Cash.
Gift Card Monday
11.30am - 2.00pm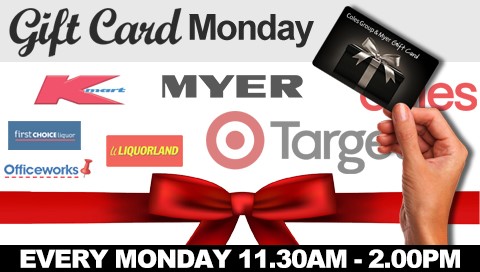 Got your eye on something special at K-Mart or Target, or simply want to reduce that Coles grocery bill? Then Gift Card Monday is your game show. Five $50 Coles/Myer Gift Cards will be won by five lucky people, and yes, you can win more than once in the same day!
Tuesday's Ring Toss
11.30am - 2.00pm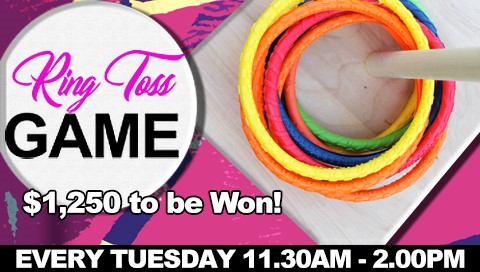 It's that good, old-fashioned game we all used to play, only now there's prize money! Five lucky people will be invited up to throw five rings at the peg board. Win multiples of $20, $30, or $50 depending on your skill, with $10 awarded for a missed shot. 
$30K Appliance Giveaway
10:00am (entries open) 12.30am - 2.00pm (draws)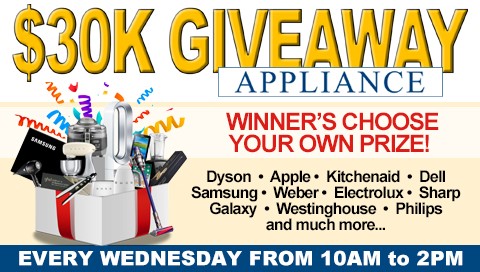 Back by popular demand, the Wednesday $30K Appliance Giveaway promotion returns with another massive $30,000 prize display to be won. Four lucky winners will win each Wednesday, drawn at 12:30pm, 1:00pm, 1:30pm, and 2:00pm, and will approach the display and choose their own prize. Prizes average in value at $935 and include only the big brand and must-have appliances and electronics. 
Thursday's Speedy Cash
11.30am - 2.00pm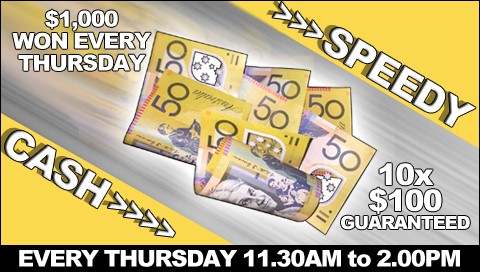 It's been so popular on Wednesday's that we've added it to Thursday. Welcome to the ALL NEW Thursday Speedy Cash. 10 draws of $100 to be won. That's another $1,000 GUARANTEED!
Friday's Scatter Cash
11.30am - 2.00pm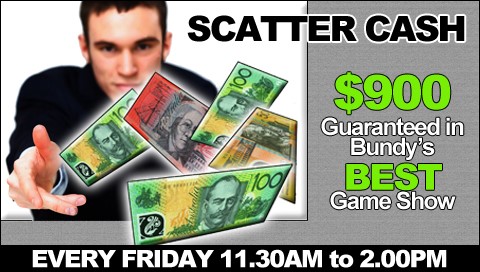 Welcome to Bundy's best cash prize game show - Scatter Cash, where $900 is guaranteed to be WON every week. Five winners will be selected, one every thirty minutes, and the prizes are instant cash! $150, $100, $200, $150, and $300, prizes are GUARANTEED EVERY FRIDAY. Scatter Cash. Simple. Easy. HUGE WINS!
Saturday's Beat the Coin
3.00pm - 5.00pm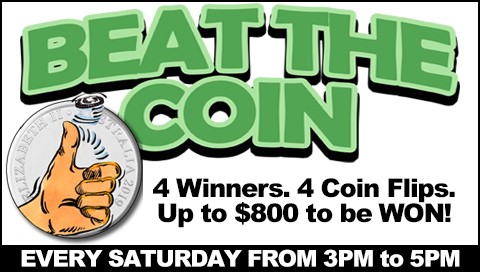 Flip the big coin four times, each time guessing what the result will be. Heads or tails? For each correct guess you make you'll win $50! Can you beat the coin four times in a row and win the perfect score of $200. It's Saturday's all new game show.
Eligibility: 
All game shows are open to MEMBERS ONLY of The Waves Sports Club with their valid membership card inserted into an active gaming machine. For every $2 or more win one (1) ticket is earned.