Promotions

NRL Perfect Score Promotion
The Waves airs every NRL game live and free during the entire rugby league football season and with each Friday night game is the all-new NRL Perfect Score Promotion. For your chance to win one of the prizes below simply comment on the Waves' Perfect Score Facebook Promotion post each week with your perfect score prediction.
Prizes include: 
FIRST PRIZE: $50 Horizons bar tab, large pizza & mate's platter (perfect score). 
Consolation Prize: Jug of Beer (closest score).
Entrants must be present at The Waves during the draw at the end of Friday night's first NRL match to win a Perfect Score Promotion first prize which can only be claimed on the night of the draw and until 9.00pm. Winners of the 'closest to' or consolation jug of beer prize do not need to be present to win and will be named (and tagged, if possible) on Facebook in a public post. Any winners of a consolation prize may only claim their prize on the night of their win until 9.00pm, or on the Friday following between 6.00pm to 9.00pm.
Full Terms and conditions are available at reception. 
ALL NRL GAMES LIVE AND FREE EVERY WEEK AT THE WAVES! 
---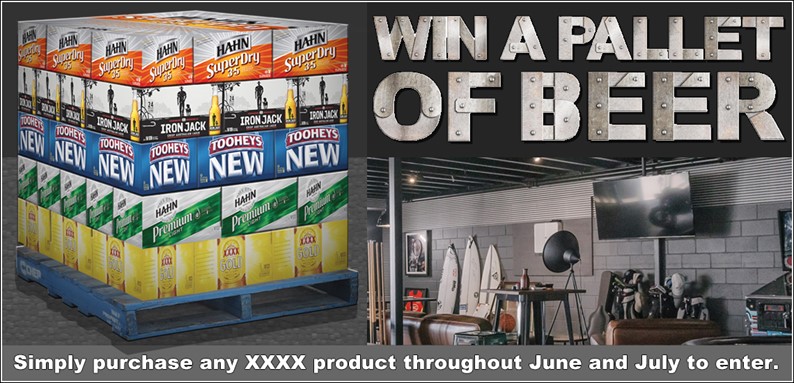 Win a Pallet of Beer
Throughout the months of June and July, receive an entry to win a Pallet of Beer each time you purchase one of the following Lion products: 
XXXX Gold and Bitter
Toohey's New and Old
Hahn 3.5, Superdry, and Premium Light
Iron Jack Crisp and Lager
James Squire 150 Lashes
Furphy
Summer Bright
Entries Open: 10.00am, Saturday, June 1, 2019
Entries Close/Prize Drawn: 6.00pm, Friday, August 2, 2019
Prize: A pallet of beer consisting only of the Lion package beers to a total of 70 cartons or $3,000 value. 
Full terms and conditions are available from our reception desk.
---
General Club Promotions
It seems every week there's another prize or promotion to throw into the mix. Food and beverage promotions, KENO promotions, gaming promotions, and even social network promotions for The Waves' social media friends. 
Current Club Promotions: 
The Saturday Mega Spin Promotion. Each Saturday $600 in instant prizes will be won PLUS one lucky winner will have the chance to spin the mega wheel where instant cash can be won or the top prize of an iPhone Xs.
Current Beverage Promotions: 
Beer, wine, cocktail, and RTD beverages of the month. See Horizons Bar for more details.
Happy Hours each Saturday between 2pm and 3pm, and every Thursday, Friday, and Saturday nights between 6pm and 7pm.
Current Pokie Promotions: 
7 daily gaming room game shows each week. Click here for more information.
This Week's Membership Draws
Tuesday, 23 July
6 x $100
Drawn between 6.30pm and 8.00pm The Waves gives away $600 guaranteed every Tuesday night. To enter simply swipe your membership card into the welcome kiosk upon arrival. 
Wednesday, 24 July
$8,000
2 x $1,000 GUARANTEED
Drawn at 2.00pm every Wednesday, jackpotting by $500 each week to a maximum of $10,000. If the maximum amount is not won, the following week becomes an $8,000 amount with 2 x $1000 GUARANTEED!
Thursday, 25 July
Up to $2,000 + Guaranteed Spin Wheel
Welcome to our ALL NEW Thursday Guaranteed Spin Wheel Members' Draw. Every Thursday evening a spin of the big wheel will determine what prize we play for. $1,000, $1500, $2,000, or $2500 will be up for grabs. If the prize is $1,000, it's GUARANTEED but you have to be at The Waves to win!
Friday, 26 July
$8,500
Drawn at 9.00pm every Friday, jackpotting by $500 each week to a maximum of $10,000. If the maximum amount is not won, the following week becomes an $8,000 amount with 2 x $1000 GUARANTEED!
Membership draw amounts are updated each Monday. Above information is true and correct as at 9.00am on Monday, July 22, 2019.