Socio-Economic Contributions
2017/2018 Socio-Economic Contributions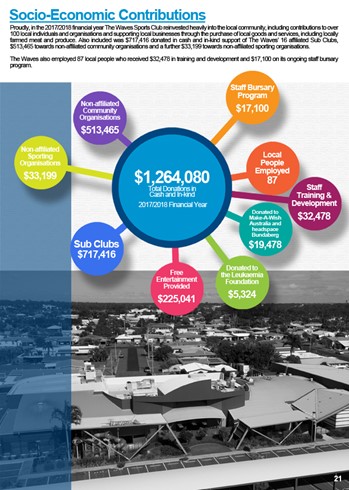 During the 2017/2018 financial year The Waves donated over $1.2M in cash and in-kind donations. Of this $717,416 was donated directly to its 15 Sub Clubs with a further $33,199 donated to non-affiliated sporting clubs.  
An additional $513,645 was also donated to 105 non-affiliated community organisations, businesses, and individuals including local schools, hospitals, and health centres. 
The Waves also supported its 87 staff this year with over $32,000 in training and development and over $17,000 in the Staff Bursary Program.
---
2016/2017 Socio-Economic Contributions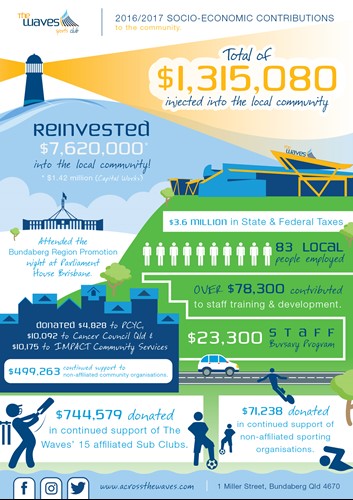 Proudly during the 2016/2017 financial year The Waves Sports Club reinvested a massive $7.6M back into the local community, which included contributions to over 120 local individuals and organisations plus the support of local businesses through the purchase of goods, services, meat, fruit and vegetables.
The Waves employed 83 local employees who received over $78,000 in training and development and $23,300 through the ongoing staff bursary program. $1.3M was injected directly into the local community, with a total of $744,579 donated in continued support of The Waves 15 affiliated Sub Clubs, plus another $71,238 towards non-affiliated sporting organisations.
From these efforts The Waves was recognised as the Clubs Queensland 2018 Club of the Year, Best Community Service by a Licensed Club Large, Best Social Club, Best Multi-Sports Club, Club Director of the Year, and for the eighth consecutive year, Best Club Wide Bay.
---
2015/2016 Socio-Economic Contributions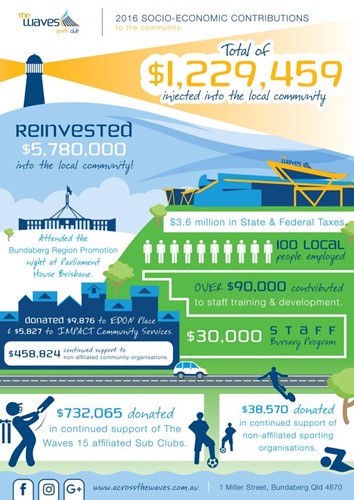 During the 2015/16 financial year The Waves contributed $1.23M to over 150 local individuals, businesses, and organisations. 
The Waves also paid over $3.6M in state taxes, spent over $90,000 in the development and training of its people, $30,000 on staff incentives and rewards, $450,000 on non-affiliated sporting and community organisations, and over $730,000 on its 15 affiliated sporting Sub Clubs.
With this level of community contribution and support it is little wonder why The Waves was once again Best Community Organisation in 2017.  
---
2014/2015 Socio-Economic Contributions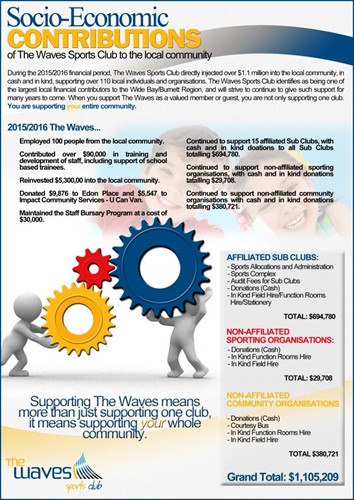 "Supporting The Waves means not only supporting one club, it means supporting your entire local community."
---
2012/2013 Socio-Economic Contributions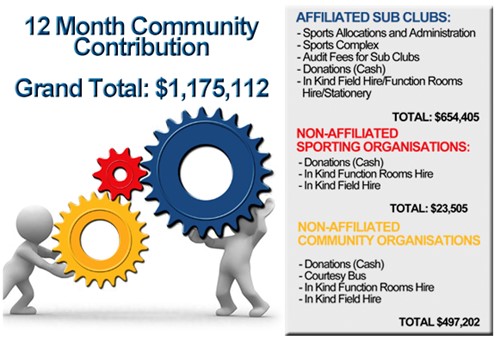 2012/2013 was a tumultuous year for Bundaberg and the surrounding areas with January 26, 2013, marking the beginning of what was to become the worst flood on record for the area, followed by many, many months of cleaning, rebuilding, and resettling homes and emotions for many of the region's people and businesses. To this day, some homes and businesses still aren't back to what they once were. 

Banding with the people of its community The Waves Sports Club stood firm in its intention to remain one of the largest contributors of support, donations, and contributions to the local community.
In total, from period July 1, 2012, to June 30, 2013, affiliated sub-clubs benefited directly from $654,405 in cash donations, allocations and administration, complex, audit fees, in-kind hire, and use of facilities. Non-affiliated sporting organisations received $23,505 in cash donations, in-kind hire, and use of facilities, and finally non-affiliated community organisations benefited with $497,202 worth of cash donations, hire, and use of facilities.
---
2011/2012 Socio-Economic Contributions
During the 2011/2012 financial year The Waves Sports Club remained to be one of the leading businesses within Bundaberg and surrounding areas for community contributions
The Waves prides itself on being an integral part of this vibrant community and after 44 years, considers itself to now be as iconic the the Bundaberg region as sugar cane and ginger beer, and as such, recognises great responsibility to the region that has continuously supported and nurtured its long-standing growth and improvement.
"We recognise great responsibility to the region that has continuously supported and nurtured our long-standing growth and improvement."
As a snapshot, last financial year $1.1M was donated directly to the local community in cash, in-kind, and financial donations, alongside $1.9M in purchases and local business partnerships. The Waves also prides itself in the inclusion of its 16th affiliated Sub Club, The Waves Cities Hockey Club. The Waves contributed over $680,000 in donations to the running costs, support, equipment, training and assistance to these clubs.
Non-affiliated community organisations also benefited from The Waves' donations, with over $370,000 directly injected into over 115 organisational and individual beneficiaries throughout the community.
Join A Sub Club Today
The Waves Sports Club is affiliated with 16 different sporting and social clubs. For enquiries or information on how to contact an individual Sub Club please phone 07 4152 1531 or contact us via email.